---
My Marietta Artists Market Show Experience
Showing my paintings again after a long winter break  from the  Marietta Artists Market show was a fun and exciting experience, especially since my talented colleague Laurie Henry  accepted my offer to share my booth space.  Above all,  Laurie and I somehow seem to inspire each other. Consequently, we worked very well together and had quite a fun day.  On a special note, event organizers behind the scenes did  an exceptional job running this show.
Highlights From My April Marietta Artists Market Show Experience
Fun and  Laughs
Meeting new people
Dogs, Doggies and puppies. (Did  I mention the puppies?)
The Marietta Square Service
Sharing my art with the public
Many patrons including collectors, local business owners, students, aspiring artists and children visited us.  Watching viewers admire and complement our original paintings is rewarding.  On a special note, I want to thank each and every one of you for your support.  As a result, I thoroughly enjoyed the interesting conversations and laughs we shared with people. Notable visitors I recall were from Wisconsin, Smyrna, and an interesting native of Kenya. Additionally, some locals gave us a few great laughs.
Although the sunlight didn't do much justice for my Pantaleon Lion Painting, as seen in the back, here is a full booth view.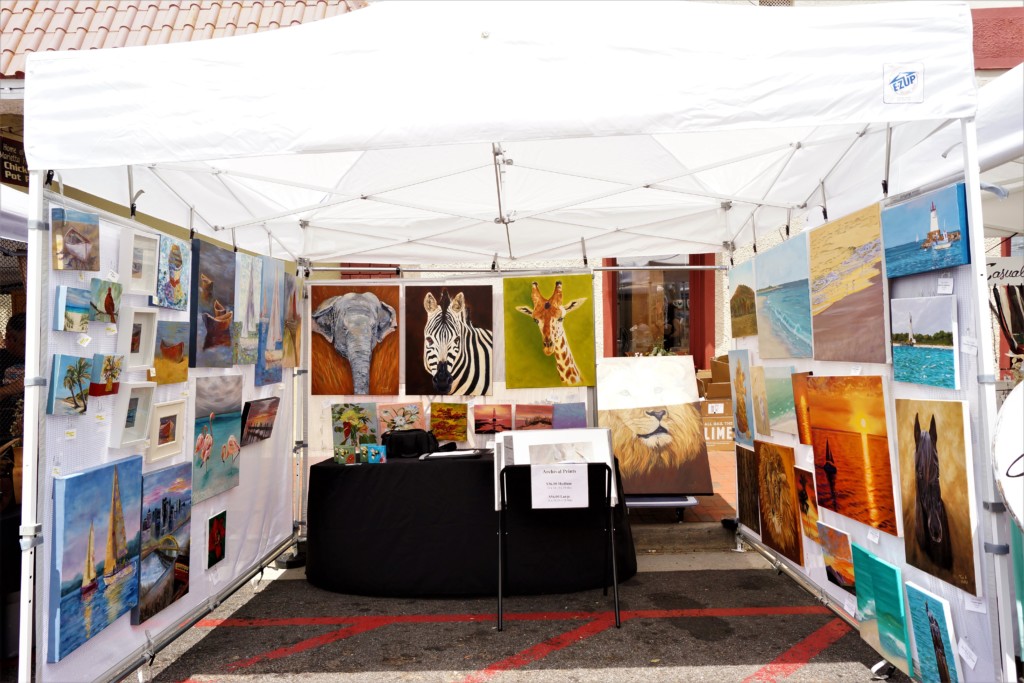 By nature, I am an animal lover. One of my favorite experiences from the Artists Market are all the doggies stopping by my art booth. Seeing the Golden Retriever puppy and Great Dane meeting each other is etched in my mind. To clarify, the Great Dane was amazingly gentle with the sweet puppy. I admit I was a bit frustrated with myself for forgetting water and treats for the fur babies. As you can imagine, I get preoccupied gathering all the needed supplies while packing for the show then I forgot to bring surprises for the doggies.  Rest assured, I'm adding that to my list now.
Our Gallery Visitor
Being around this creative environment inspires me. More notably, I love hearing live feedback and seeing reactions regarding my paintings which helps me grow as an artist.
As a matter of fact, I want to give a special thanks to Amber Markay Byrd from the new Markay Gallery  who took time out of her busy day to visit and peek at our work.  In addition, she was also kind enough to speak to us after the show. Markay Gallery, located on Winters  Street at the Marietta Square, is situated near the Cobb Museum of Art. Amber has a great vision and unique concept. Even more exciting is the fact that Markay Gallery offers to host special events. I highly recommend you stop in her unique store where almost everything, including guest book pen,  is handmade.  Thanks Amber for supporting local arts.
Lunch
Also, a big shout out and thank you to The Marietta Local for delivering lunch to us because I ended up so busy preparing I would have went hungry all day.
My Next Showing
Due to prom, this weekend was extra busy for many local residents. By the way, I loved seeing all the prom photos on Facebook.  On that note, if you missed this weekend's show, I will be back at the Marietta Artists Market Show again one more time before the summer heat hits us. You can find me there again on May 27, 2017.  Although it's not a firm plan yet, I may do a couple of Art Walks after May. Keep watching for news.
If you liked last month's free calendar download, please let me know in the comments. I'll likely put together another one for May's Marietta Artists Market show where I plan to have at least another new painting or two.
Thanks for reading. If you enjoyed this post. Please share it.
written by Tina A Stoffel
Please follow and like my art: