Description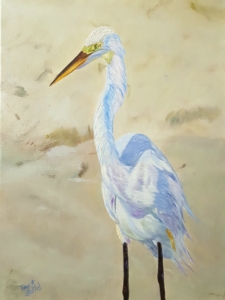 Painting Details
This Boca White Egret framed oil painting is a perfect painting for medium to smaller spaces. The background is painted smooth, with subtle interesting textures showing on the feathers. See the cropped image to view the texture. Recently framed, you can currently view Boca White Egret in the Salzmann Gallery. I have included an additional image a similar frame and will get another photo after October 1 st.
Boca White Egret Inspiration
This painting was inspired when I spotted this bird on the island of Boca Grande. He was standing so gracefully and at peace. He was not scared and posed perfectly for me to snap a good reference photo of him or her.
Boca Grande is a beautiful island located in South Florida between Sarasota and Ft. Myers. It's very serene. The water is so clear that it is similar to the Caribbean with sugar white sand. Boca Grande is very quiet making it a nice little get away If you like sea life, you may catch the leopard rays on an island tour. Since the island is not commercialized, I'd recommend making boating arrangements ahead of time.
Want to know what this Boca Egret Painting will look like in your setting?
No problem. Just e-mail, call or text me and I will give you an idea of how this will look on your wall. I may be reached at admin@TinasFineArts.com or by calling 770-286-1155.
Mock up photo courtesy of: freepic.com
Please follow and like my art: