Before I tell you about some wonderful places to find unique holiday gift ideas, I want to extend my apologies for any and all website errors you have encountered this week. Although I renewed my security certificate early, it seems that there was an error in the certificate.
Finally, today we resolved the issue.
Where To Find That Special Unique Holiday Gift Idea
Meanwhile, in between painting holiday commissions, I have been adding many products to my stores for holiday gift ideas. Did you know about my two online stores that house loads of amazing products? If not, please have a look.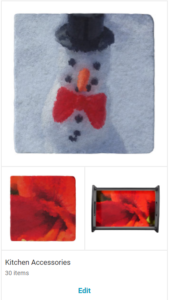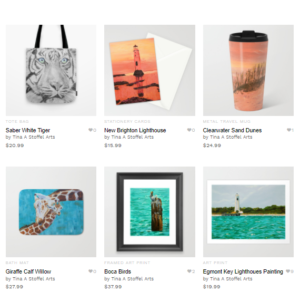 Holiday Gift Idea Sales
Please make sure you check the page banners for special offers and promo codes that these stores run and change often throughout the holidays.
Many products have been created from my art and photography. You'll find hostess gifts such as
Wine Bags
Serving Trays
Stone Trivets (my favorite for protecting counter tops from hot items)
PLUS
Prints
Coasters
Candles
Blankets
Throw Pillows
Carrying cases
Tote Bags
Ties
Bandannas
and more
You will find something for everyone on your list there, and of course, you can splurge on an original painting by going to the main page on my website, www.TinasFineArts.com. Most items ship for free within the Continental USA (standard shipping only) .
Keep checking social media and my stores (links found under decor and gifts tab) for sales and updates. I'll be announcing Black Friday sales running through my providers in a newsletter tonight.
Make sure you subscribe on the right for the updates.
Thanks for reading and being patient.
Tina A Stoffel
Please follow and like my art: