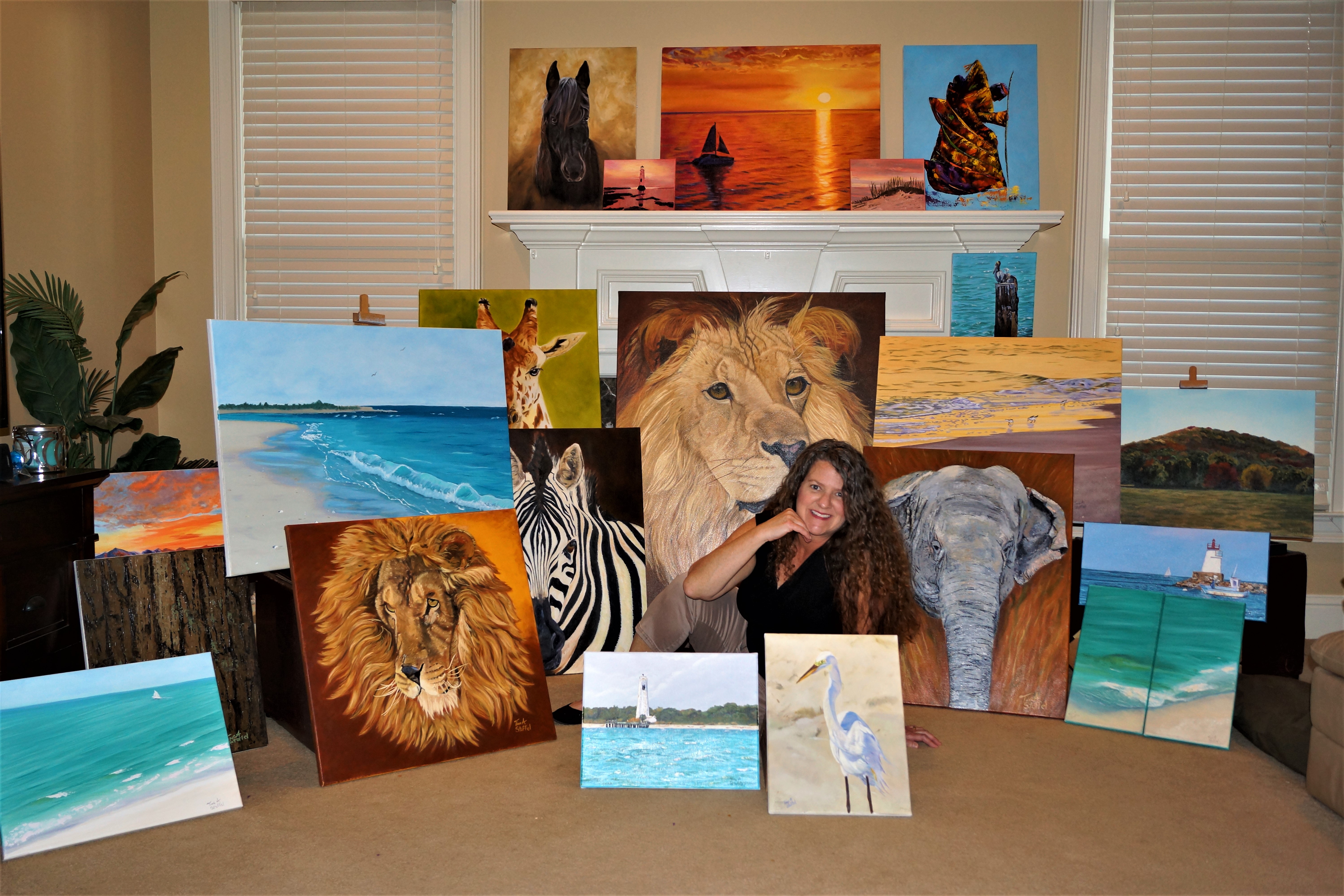 Where It All Began
This is where you will find out about Tina A Stoffel and her journey as an artist.
Tina A Stoffel was born and raised in Indiana. As an only child, she was often bored which led her to taking an interest in drawing. When her single mother noticed she had potential, she saved enough money to buy her a Jon Gnagy art kit. It was such a special gift to Tina. Her talent quickly blossomed and led her to take several classes in Jr. High and High School.
Tina A Stoffel's Approach
As seen reflected in her paintings,nature, animals, art and music have always fascinated Tina who specializes in oil paintings. Although she occasionally dabbles and experiments in various styles, Tina Stoffel's paintings are primarily a colorful realism style. Tina says she finds peace and happiness through nature, animals and music . Through her art, Tina wants her viewers to be able to immerse themselves into a painting and feel that same sense of calmness.
Although she was on course to major in art, life took a different turn for a while. Other than a few classes and courses after high school, Tina is a self-taught painter who has learned through books and professional organizations about proper techniques and materials. She takes great pride in the quality of her work, using professional artist quality materials and techniques that yield high quality workmanship. All original art is signed, and accompanied by care instructions in addition to a certificate of completion.
Summary About Tina A Stoffel:
Loves Nature, Animals and Music

Specializes in Oil Painting

Colorful Realism Paintings

Mostly Self Taught

Quality Workmanship

Believes in Continual Growth
Through past experience, Tina has learned to take a positive approach toward her work and life in general. Her art studio is where she feels the happiest. Each painting is created with positive happy and peaceful energy. Painting has been her lifelong passion. Tina continually studies new techniques and materials while pushing her boundaries to help her grow as an artist. She believes that life is a continuous process of learning, growth and improvement.
Tina A Stoffel's Background
Tina's interest in art started as a young child. By the time she reached Junior High School, she quickly sharpened her skills which landed her a course scholarship at Herron School of Art in Indianapolis, Indiana. Creativity surrounded Tina with an early background in Cosmetology, Fashion Merchandising, Printing and Advertising. Due to her experience, she developed a solid foundation to the understanding of color and design.
As you can see, Tina emphasizes nature in her paintings with a primary focus on seascape, and wildlife paintings. In addition to painting, Tina A Stoffel also adds some of her photography and art on products such as home decor and personal gifts and accessories.
View Tina's paintings on her home page. Tina accepts commissions on an approval basis. Please contact her with requests.
More About Tina A Stoffel
Get to know the even more about Tina A Stoffel as an artist by reading her blog and following her on Facebook, Instagram, and Pinterest. If your ad blocking program blocks the icons at the top and bottom of each page, you can find these links by clicking on the links tab at the top of each page.
Phone: 770-286-1155
email: admin@TinasFineArts.com