Lately I've been working on some new wildlife paintings. I'd like to introduce you to my two latest ones.
This Brand new painting of an Elephant Mother and her calf is now complete. It measures 16 by 20 inches, and I think I may have a perfect frame on hand for it.
Picking a Name
What do you think of naming it Elephant Day since it was just completed the day after World Elephant Day? I think I like the ring that one has. Usually I struggle a bit with naming my pieces. and think the new Tiger painting will be a challenge, so please feel free to comment on names.
Also, I want to give a big thank you to the photographer Marna Buys for providing an excellent reference photo.
Adding a Tiger To My New Wildlife Paintings
Well here you have it? I've been asked several time to paint a tiger, so I took note and now have this in the works. I must admit, I was determined to get all the black laid down last night before bedtime, but my eyes got sleepy towards the end. I want to thank Chris Allesbrook for this wonderful reference photo.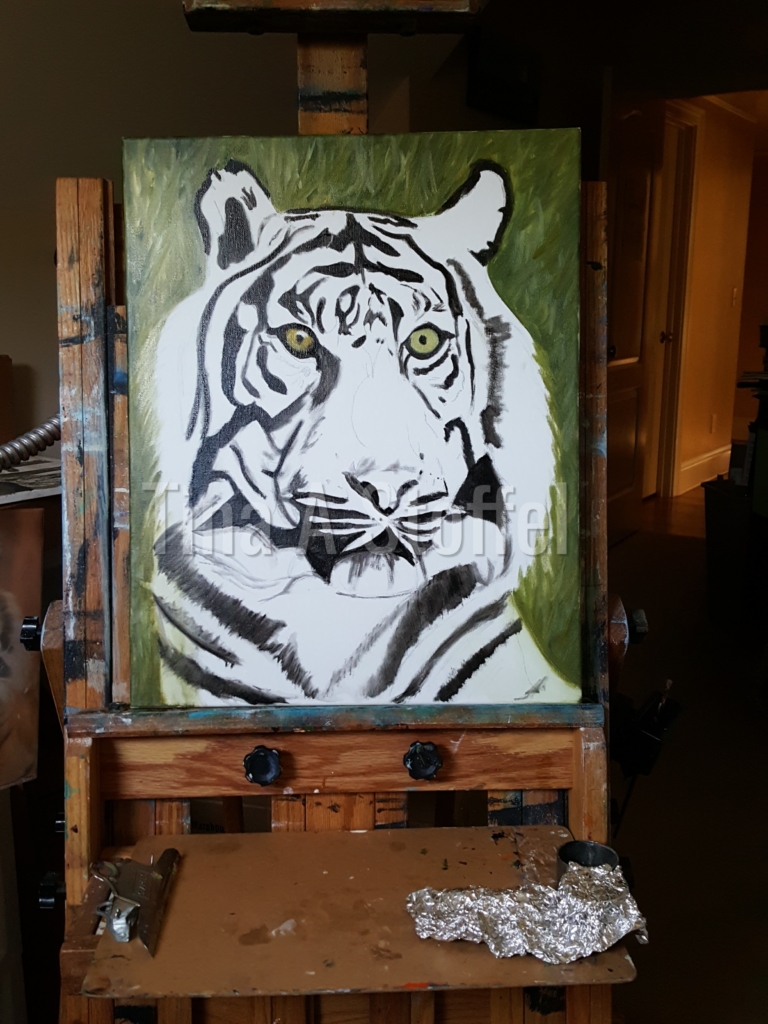 Here is my current Work In Progress (WIP). This Tiger painting is also 16 x 20 inches.
Help Me Name This New Wildlife Painting of a Tiger
Do you have any name suggestions for this one? If so, please leave in the comments.
Although I would love to have this new Tiger painting completed by next week, but I'm not sure if that will happen due to a super busy but exciting schedule. This will be the standard orange tiger and I thought the green background would be a nice contrasting color.
Sine Brave, the lion painting has sold, these two new animal paintings make a total of 12 paintings in my wildlife series.
And for a little fun twist, I've digitally manipulated some of these works for online prints. The effects I get from doing these manipulations are really fun. See for yourself in my Society6 Store https://society6.com/tinaastoffelarts. Pleas note new works are in the process of being added.
There may be some exciting news happening soon, so stay tuned.
If you enjoyed this post. Please share it with your followers and friends.
Have a great day.
Tina A Stoffel
[contact-form-7 404 "Not Found"]
Please follow and like my art: